Kompass – Newsletter Nr. 47 – March 2016 (pdf)
+++ Balkan route closed – up to 15.000 refugees in Idomeni +++ Deal of Turkey and NATO-Operation in the Aegean +++ AntiRa manifestations in several cities +++ 12.3. in Cologne: Our Feminism is anti racist +++ 12.3. Freiburg: For unlimited human rights +++ 19.3. in Hannover: Fight against racist mobilization +++ 2.4. in Bielefeld: Freedom of movement instead of deportation camp +++ Freiburg – Basel, Italy – Austria: Actions at the borders +++ WatchTheMed-Alarmphone: Video clips and campaign newspaper +++ Review: Conference in Hamburg; Safe Passages; 1. March action day against border regime and precariousness +++ Prospects: Defencing from 27. to 29.5. at the Slovenian-Croatian border and Nobordercamp mid of July in Greece; 10. – 12.6. in Leipzig: Welcome to Stay-Summit +++
Dear friends!
7 March 2016 – a new round for polarization. The Balkan route is so to say closed, NATO ships are in the Aegean, Calais vacated, the Asylum package is rushed through and the extreme right-wing persons of the AfD rise – on all levels we are confronted with a racist rollback. The EU-border regime should be straighten up with might and main and the control over the flight and migration movement should be restored at any cost.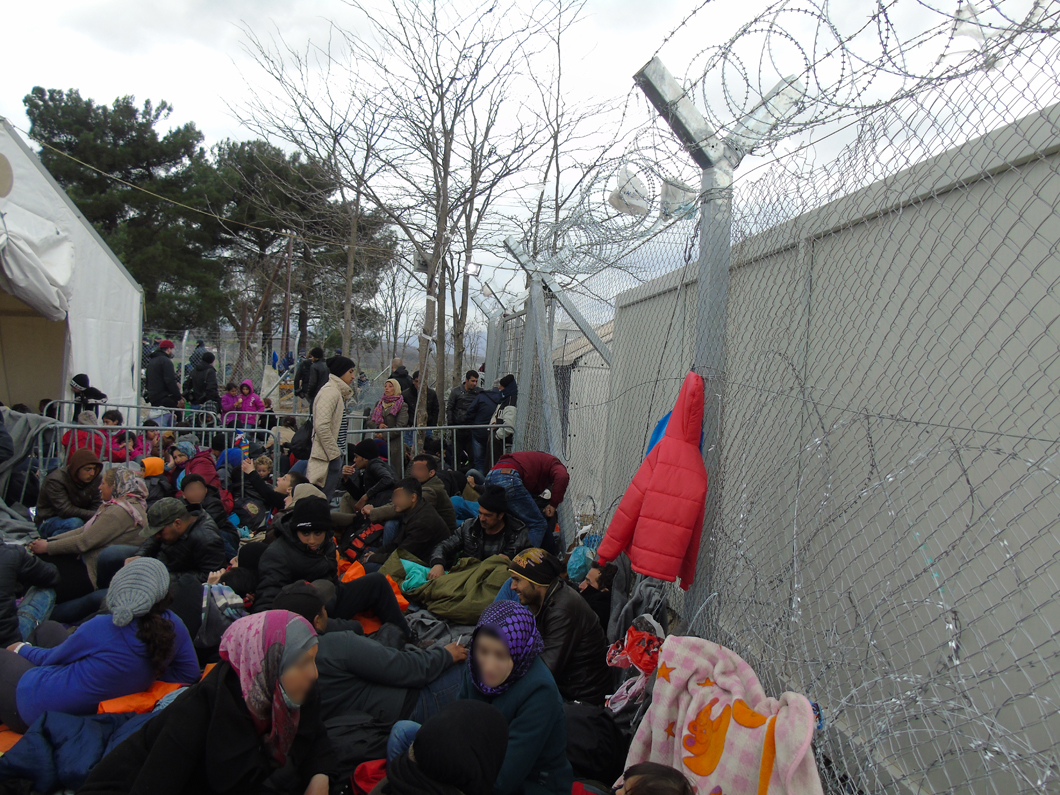 But also the social and political resistance is not broken yet. 15.000 people stay in tents and mud in Idomeni. They demand open borders while thousands are looking for new ways to the north. And until now the cross overs to Greece, which has been ongoing the whole winter, are especially braking by the bad weather. Simultaneously up to 2000 activist have meet in Hamburg, mainly self-organized groups of refugees. Never before there were such a good visited conference in Germany, also the antiracist movement is better organized now.
Hard confrontations are foreseeable for the coming weeks and month: heavy defencing actions on the outer borders, fights for the right to stay and socio political and antifascist resistance inside. Whole Europe will become a highly competitive space, the question is how will the continent look like in future? The Research Institute for Flight and Migration express it like this in their worth reading comment:
"The number of migrants in itself is not the problem, also 5 or 20 million would not have to starve and could be provided in a dignified way. The political and medial production shows the importance of the subject and asks questions about the character of the prospective Europe. It will be either the opening of the borders or a fortress of prosperity, it will be either an open society or militarisation and firing order. This questions are asked because the migrants are coming. They move Europe and they don't will vanish, we have to act!" ("Europe in Limbo", look at http://ffm-online.org/category/kommentar/)
Let's get involved, let's mobilize! For an open Europe from its bottom, by any means necessary!
Your Kompass Team